Baby Pasta (Chicken ABC Veggies Sauce Macaroni)
---

Product Description
---
Q Baby Market Baby Pasta with Chicken ABC Veggies Sauce (baby macaroni) is available now😍 suitable for who are modern new parents or busy mummy, traveling and elderly. Just simple with 3minutes reheat to enjoy convenience & easy to prepared best nutrition and healthy meal for your little ones👶🏻❤️💋
Product features:

❤️Easy to prepare with minimal heating

❤️Made with Baby Macaroni and natural ingredients

❤️No added salt, no added sugar, no artificial flavoring

❤️Hygienic retort bag design, can be safe kept at room temperature

❤️Easy to carry, perfect for picnic, busy parents and traveling

❤️Baby-friendly consistency, pefect for infants new to solids

✅SGS certified safety hygienic Retort Pouch Bag

✅Selected premuim fresh ingredients

✅ 100% No preservatives

✅No seasoning

✅No artificial colors

✅No added salt/sugar

✅No trans fat

❌Not dry noodles

❌Not powdery

Why Choose Q Baby Market Baby Pasta: Enriched with UMAMI & nutrients from various vegetable. ❤️rich ❤️healthy ❤️hearty ❤️super delicious.
Our baby pasta (baby macaroni) pouch specially process by

Japan Autoclaving Equipment Technology

Our hygienic Retort Pouch Bag (preventing air and bacterial from contaminating the zero preservative food content) has undergone high temperature sterilization. Retort Pouch Bag is safe be kept in room temperature for long time.

Preparation Instructions:

1. Put the whole pouch into a pot of 100c hot water for 3-5 minutes heat up

2. Remove content from the pouch and pour it into a bowl, heat up with microwave oven for 40 seconds (Caution: Do not place the pouch in the microwave oven)

3. Put the whole pouch into a vacuum thermal food jar, pour in boiling water, simmer for 10 minutes to heat up

4. Pour the baby pasta into a bowl, steam with cooking pot for 10 minutes

Tips : The Baby Pasta consistency can be adjusted by mixing with a little hot water

Suitable for 8months and above

Net weight: 150g x 2packs

(Note: There are 2packs in 1 box)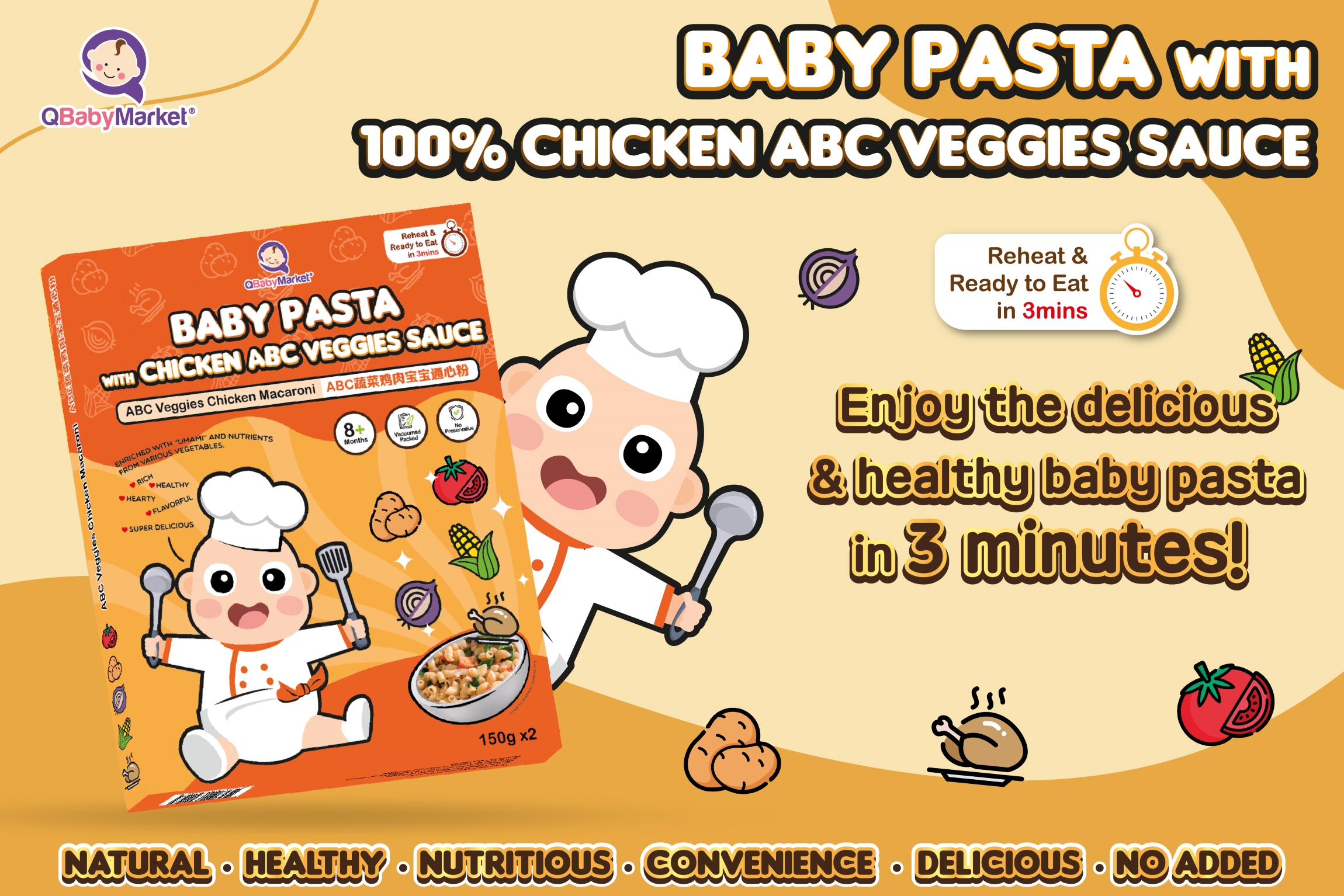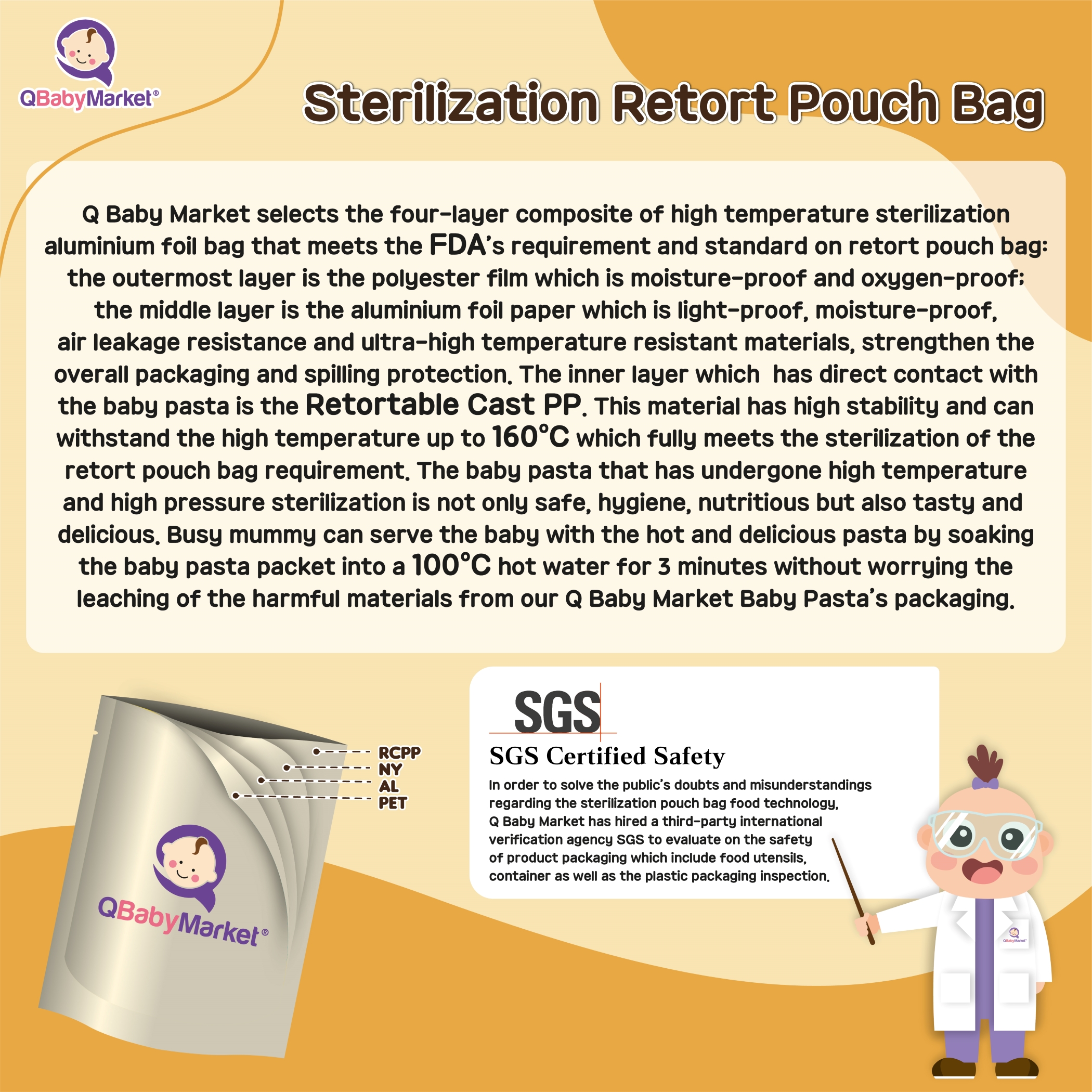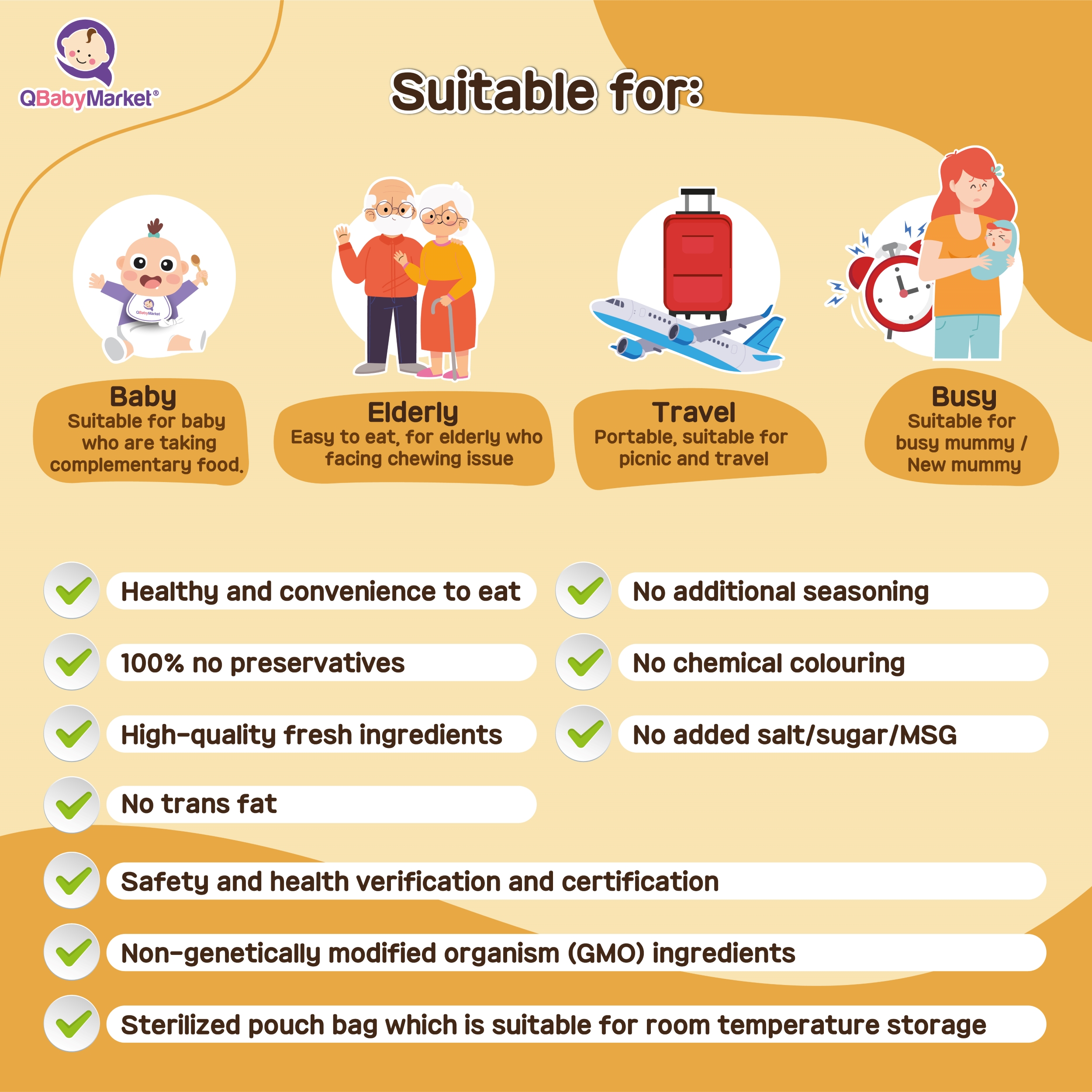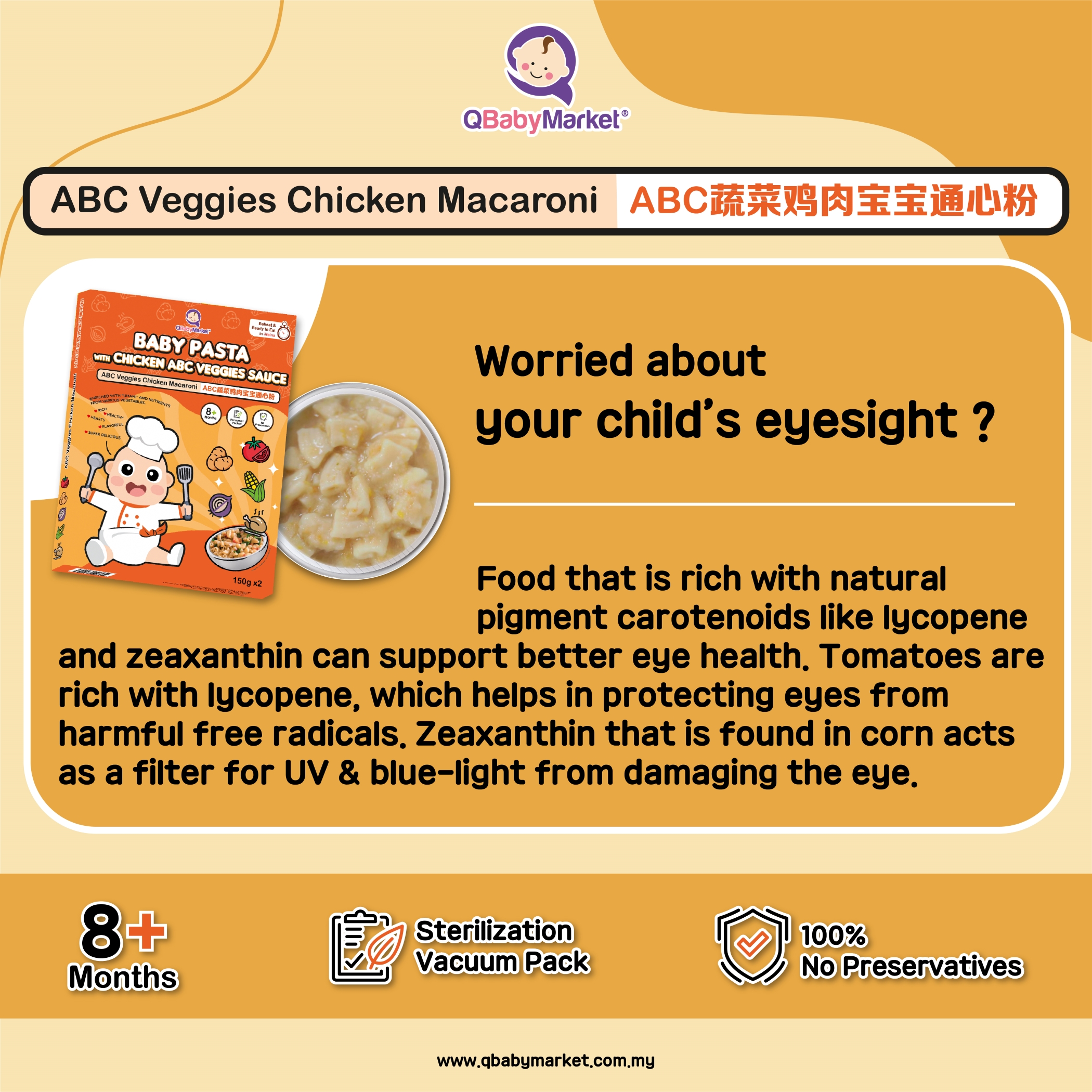 【营养调配师精心调配及推荐】只需3分钟弄热的营养健康的外带宝宝通心粉,爸比妈咪们的救星宝物推出啦❤️💋👶🏻

Q Baby Market为了新手妈妈,忙绿妈妈,外出/旅行✈️,年长老人🧓🏻不管在哪里都可以轻轻松松解决烦恼营养健康的一餐💋❤️👶🏻

假期的时候爸妈们都很想带宝宝去旅行,当每次plan完行程都会很烦让宝宝吃什么要怎样煮外面食物是不是适合吃?妈妈们很烦就对了,plan最后都不想出门游玩了!等Q Baby Market小编介绍以下其中1款宝宝外出宝物,让大家可以开开心心带宝宝出门不用再烦恼宝宝吃得不够健康营养❤️

营养健康正餐:ABC蔬菜鸡肉宝宝通心粉

专业营养调配师精心严选各种新鲜食材及采用优质食材处理清洗食材洁净后慢火熬煮到达丰富营养宝宝通心粉。

无防腐剂、无任何调味料;高温杀菌真空包装方便携带;只需加热3分钟后即开就可享用热腾腾香喷喷的一餐,反而不用担心不卫生,适合8个月或以上 (ABC蔬菜鸡肉宝宝通心粉)

👶🏻很多妈妈都担心比如日本或韩国宝宝面类味道怪怪宝宝不吃而且不知道有没有添加盐或味精。

妈妈们在这里不需要担心口味问题或营养健康,Q Baby Market的ABC蔬菜蔬菜鸡肉宝宝通心粉特地为亚洲人引进精心制作,所以跟我们煮的是一样口感口味而且无添加防腐剂和任何调味料。

✅SGS验证杀菌蒸煮袋

✅无防腐剂

✅健康营养方便

✅卫生杀菌蒸煮袋

✅安全卫生验证和认证

✅严选高级新鲜食材

✅非基因改造食材

✅无任何调味料

✅无任何化学色素

✅无添加盐/糖

✅无反式脂肪

❌不是干燥粥

❌不是粉状

适合8个月以上的宝宝